COMMITTED TO THE HIGHEST LEVEL OF SERVICE IN THE INDUSTRY
Our fully qualified and experienced operators can advise on the best crane suitable to your needs.
Our specialist Crane Operations Co-ordinator Greg Buchanan,is available to visit your site to evaluate any risk and discuss with you the best approach to any job.
Buchanan Crane Hire is a member of the Crane Industry Council Of Australia & is committed to the highest level of service in the industry, safe work practices and sound competency standards.
Established in 1980 our family based business based centrally on the Mornington Peninsula has had 30years experience in the industry.
30+ years experience
Established in 1980, our family based business based centrally on the Mornington Peninsula has had 30 years experience in the industry.
Our Services
Reliable and efficient, our mobile cranes have high manoeuvrability in tight access areas wiuth fully qualified & experienced operators.
Why Choose Us?
Over the years we have earned a reputation for excellence. Please give our crane professionals a call for a free quote or enquiry.
Exciting News!
The team at Buchanan cranes are excited to announce we are the recipient of the …Mornington Peninsula Business Excellence award winners!  Thanks to all our hard work and commitment from our small team!
Dear Melanie,
I hope this message finds you well. I am writing to extend my heartfelt congratulations to you and your entire team at Buchanan Mobile Crane Hire for achieving the remarkable feat of winning the esteemed category at the Mornington Peninsula Business Excellence Awards.
As one of the adjudicators, I had the privilege of reviewing the submissions, and I must say that your dedication, innovation, and commitment to excellence truly stood out. It was inspiring to witness the impact and quality your business brings to the industry, setting a benchmark for others to aspire to.
Your well-deserved recognition as the best in your category speaks volumes about the hard work and vision you all have put into making Buchanan Mobile Cranes a paragon of success.
Once again, my sincerest congratulations on this phenomenal achievement. Your dedication to excellence serves as an inspiration to us all.
Warm regards,
Keith Hinson MBA, FAMI CPM, CET
Business Mentor
SBMS Director
–– PROJECT ––
MORNINGTON YACHT CLUB
A big thank you to Buchanan Cranes for a fantastic effort getting 26 yachts lifted from the water and deposited into their cradles at Mornington Yacht Club on Saturday. You have been doing this for many years now but have surpassed yourselves this year.
James, his team and the Franna crane worked relentlessly to get all of the yachts including large heavy ones out of a very restricted access point at the waters edge.
Well done, Bill Bennett – Mornington Yacht Club
–– PROJECT ––
BOLTE BRIDGE SAFETY SCREENS
As the sun set over the Ronstan International Head Office facility here in sunny Melbourne last night, the last of the Bolte Bridge Safety Screens was loaded into a Lendlease stillage and shipped off for installation.
"Hi Greg, Just an extra note of thanks to you, Matt and James on your efforts. We really appreciated your professionalism and willingness to cater to all our requirements. Between us all we achieved a great deal."
Timothy Melville, Operations Director – Ronstan International Pty Ltd

Client's Testimonials
Dear James, Thank you very much for your excellent work in applying your amazingly large mobile crane to first move our red container so we could build the boat storage shed.
Tony Sinclair – Mornington Mens Shed
Thanks for your service yesterday. We found Mitch and Matt to be most helpful, very safe and they did a great job. Mitch was big on communication and thought all things through on a tricky task. We look forward to working together again.
John Pendavingh – Managing Director – Jorant
You guys did a really fantastic job – I would recommend you guys to any potential customer. On time, on budget and great to deal with!!
Adrian Pratt – Managing Director, WJ Pratt Water Treatment
Hi James, Thank you for your prompt attention and excellent workmanship you provided. We wish you all stay well and safe.
Regards, Phillip D'Aloia DALSTRUCT PTY LTD
Thanks so much for a great service, very impressed with how it all worked! 🙂
Stacey Matlock – Business Manager, Kirkella Pty Ltd
To  all the team at Buchanan Crane Hire: Just wanted to say  how PROFESSIONAL and SKILLED James is. Edwina and I were delighted with his efforts  on our behalf earlier this week.
Regards, Fergus Nutt – Warlimont and Nutt Pty Ltd
Hi James, Just a quick note to say thank you very much for your prompt and professional service in shifting the presses from Ronstan. Presses are now in place and operational. Much appreciated.
Kind regards, Stephen Casey, Technical & Commercial Manager – Ceramet Pty. Ltd.
Thank you for safely lifting and shifting Beachcomber on Sunday. I appreciate your team going the extra mile as per your motto. Please pass my appreciation to you and your team on the the day.
Bob Wilson
Just a quick thank you for all your efforts and support in the cabins out of Ace Hi … both Denise and I appreciate your patience and professionalism shown in your part of the process … happy to report all made it safely to new home … well done to you and continued success in your trading year …. please feel free to use this review in any advertising.
Ken Bell, Ace Hi Ranch
James was absolutely sensational today. He was very professional, packed full of ideas and alternatives, calm and cool headed as well as open to ideas and suggestions. Overall he did an excellent job, and we would like to request his services specifically for our next cabin install, which I will call with the dates for shortly.
Josh Davis, Amberlee Holiday Park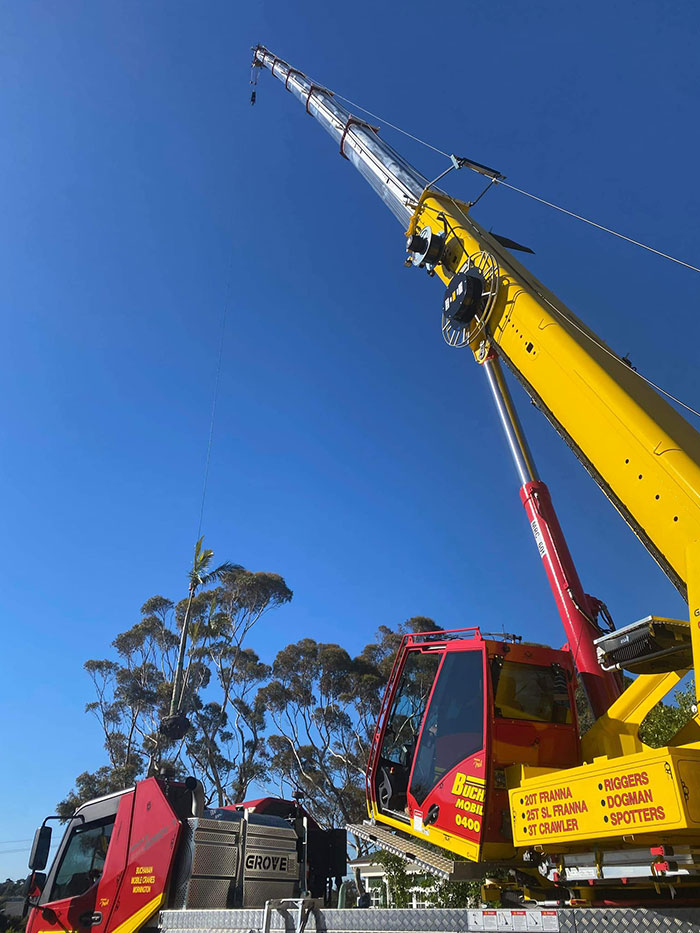 LET BUCHANANS TAKE CARE OF YOUR SMALLEST LIFT TO YOUR LARGEST LIFT
Safety compliance to Aust. Standards & Certified by Crane Safe
20T Frannas & 60T Slewing Crane
4WD Cranes for Difficult Access
Fully Qualified steel fabricators and erectors
Latest technology & fast response time
BUCHANAN CRANES IN THE NEWS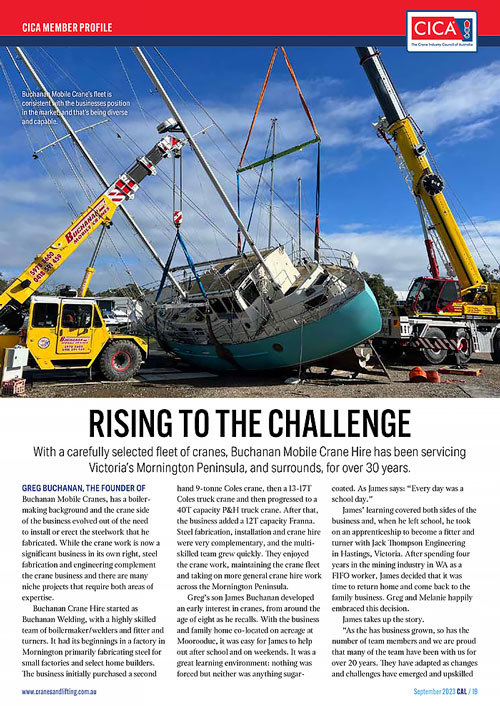 Read the article about us that appeared in the September 2023 edition of Cranes and Lifting Magazine.
Read the article about us that appeared in the July 2018 edition of Cranes and Lifting Magazine.
A true leader in the crane industry
From large and small jobs, long term or short term, we have the reliable machinery required for the safe, effective completion of your construction work.
Over the years we have earned a reputation for excellence. Please give our crane professionals a call.